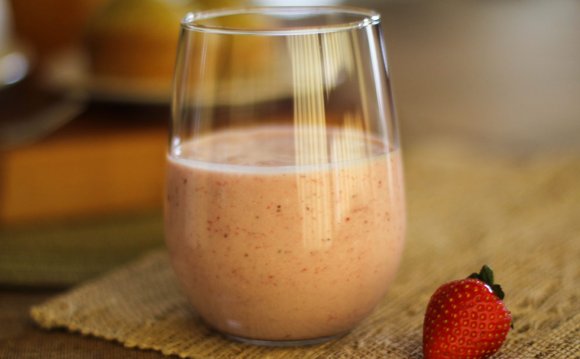 ITALIAN SODAThese are dynamite!
1. Fill a tall glass cup with ice
2. (Optional - we recommend trying these after you know what the plain version tastes like) add in some flavoring syrup of your choice (grape, cherry, kiwi, cranberry etc). Jam or blended fruit can be used instead of syrup - add honey or sugar if the blended fruit is too bland).
3. Pour in your fizzy water kefir to about an inch from the top. To get fizzy milk kefir, bottle it in a specially designed air-tight bottle, such as a swing-top bottle (used for beer, etc) for a couple days until desired fizziness is reached (then add it to this recipe). If more fizz is desired, purchase some soda water and add a little in, to sub for part of the milk kefir.
4. Add in half and half (half cream, half milk) to the top.
5. Stick in your straw and drink!
CREAM CHEESEIt's easy to get a delectable cream cheese from your kefir simply by straining it in a fine muslin (butter cloth), thin tea towel or a couple coffee filters lining a strainer. You can aim for a sweet breakfast spread or a salty, cheesy snack spread with some of the suggested flavorings below. Simply take your finished kefir (seperated from the grains), and either hang it in a bag of clean fine kitchen cloth over a large bowl or put it in a coffee filter-lined strainer over a large bowl (to catch the whey dripping out). To make it easy putting kefir in a cloth bag, place the cloth in a bowl with the edges draping over the sides, pour the kefir in, grab the sides and tie it shut at the top and remove from bowl and hang. Use a rubber band, twistie or kitchen twine to tie the bag shut securely with a strong knot to hang it from. A banana tree works well to hang the bag, or a wooden spoon across a tall bucket works well too (and then the bucket can serve to catch the whey as well). Let drip through the cloth or coffee filters at room temperature for 24-28 hours. You may put it in the fridge too, if it's needed for some reason (it will not hinder the process). Remove from the cloth or coffee filters and put in a clean storage container to consume!Flavoring Suggestions: (all improve when let to sit for a day or two and meld in the fridge before consumption)Strawberry Cream Cheese
1-2 hefty tablespoons strawberry preserves mixed into 1 cups worth of your plain kefir cream cheese OR for a fresher more natural approach, 1/4 cup fresh or frozen strawberries chopped how you want them + 1/2-1 tsp sugar/1 tsp honey/pinch stevia/1 tsp maple syrup, and blend into 1 cups worth of your plain kefir cream cheese.Blueberry Cream Cheese (follow this for raspberries or blackberries too)
1-2 hefty tablespoons blueberry preserves mixed into 1 cups worth of your plain kefir cream cheese OR for a fresher more natural approach, 1/4 cup fresh or frozen blueberries chopped how you want them + 1/2-1 tsp sugar/1 tsp honey/pinch stevia/1 tsp maple syrup, and blend into 1 cups worth of your plain kefir cream cheese.Preserves Cream Cheese
The list could go on and on for this so we'll condense it into 1 recipe. Simply take your favorite jam/jelly/preserve - about 1 tablespoon worth to start with, and blend it into your kefir cream cheese. Some flavors will work better than others. Apricot, Huckleberry, Orange and Lemon would be some good ones to try).Honey Pecan Cream Cheese
Source: www.yemoos.com
YOU MIGHT ALSO LIKE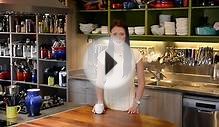 Recipe | How to make Dairy Kefir | Dorota Trupp Nutritionist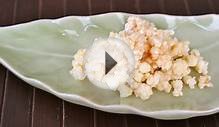 Video/Recipe: Milk Kefir
Share this Post