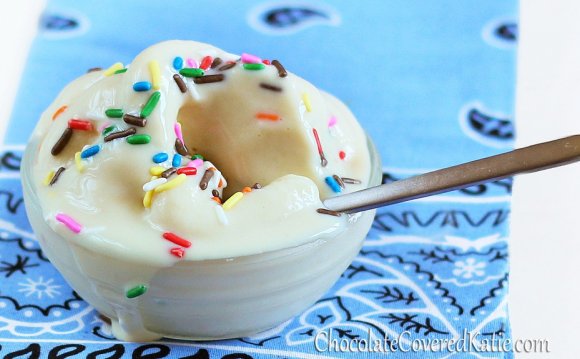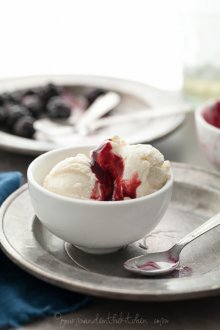 With its distinctive zippy tang and multitude of beneficial active cultures, this lemony frozen kefir with blackberry coulis is a fresh take on frozen yogurt.
If you've never had kefir, it has the same tart and slightly sour taste of yogurt and it's that very twang that gives the base of this lemony frozen dessert its kick.
In the case of this frozen kefir, what you get is the light and bright flavor of lemon with the faint floral undertone of raw wildflower honey playing off the refreshing tartness of kefir. Add to that a blackberry coulis accented with a glug of crème de mure and you have yourself a fresh and vibrant warm weather dessert that's a cinch to make.
There's no cooking required here so as to preserve all the friendly gut bacteria, vitamins in the berries and active properties of the raw honey. The result is cooling and lively all while remaining luxuriously smooth and creamy.
You start by straining the kefir to make a thick and velvety base. Chill, pour and freeze and you are ready to go. If you keep a batch of kefir yogurt on hand the path to frosty bliss is even shorter!
The yogurt-like flavor of the kefir really shines here and is further accented by the natural acidity of the lemon and blackberries. It's just the kind of thing I crave this time of year when the heat is rising. Swirl in the blackberry coulis for a marbled effect, drizzle it on top like a sundae or finish it off with fizzy water to make a float.
Have you ever had kefir?
Lemon Frozen Kefir with Blackberry Coulis
Ingredients
1 quart/946ml whole milk kefir (I like to use goat's milk kefir or you can use coconut milk kefir for a dairy-free version)
Juice of one large lemon (should yield about ¼ cup/60ml), divided use (3 Tablespoons for the frozen kefir and reserve 1 Tablespoon for blackberry coulis)
3/4 cup/140g frozen blackberries, thawed
6oz/170g fresh blackberries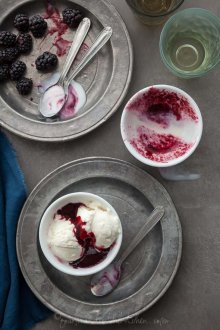 Instructions
Line a colander with cheesecloth (or use a yogurt cheese bag or clean tea towel). Place over a medium-sized bowl to catch the whey.
Pour kefir in the cheesecloth and place the bowl in the fridge to drain until your kefir has thickened and has the consistency of yogurt. (This may take anywhere from two to four hours or longer if your kefir is very thin.)
Cover and refrigerate for an half an hour to an hour, or until well chilled before churning.
Meanwhile, place the thawed frozen blackberries with the reserved lemon juice and the rest of the honey (2 Tablespoons) in a blender or food processor and puree adding water if necessary to create a smooth sauce.
Pour the chilled kefir mixture into the canister of an ice cream machine , and freeze according to ice cream manufacturer's directions until thick and creamy. (If you prefer a soft serve consistency, serve immediately or pack into a freezer safe storage container and freeze until ready to serve.) If you'd like you can layer spoonfuls of the blackberry coulis with the frozen kefir into a freezer safe container for a swirled effect or serve it separately.

To Make Floats:

Serve with blackberry coulis and top with fresh berries.
Place two small scoops of frozen kefir in a glass.
Add a spoonful of blackberry sauce.
Pour in sparkling water to fill.
Drizzle with more blackberry sauce and top with fresh blackberries.
Serve immediately.
Source: gourmandeinthekitchen.com
YOU MIGHT ALSO LIKE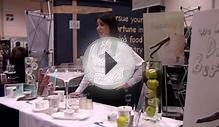 Danielle Franz, Owner Yogalicious Frozen Kefir Desert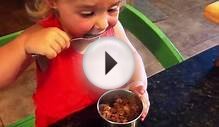 Recipe: Chocolate Raspberry Frozen Yogurt/Kefir
Share this Post